What is the name of the first Chinese brand which is on a par with the first-rate international motor vehicle?
  It's Yadea. The Yadea electric motorbike was included in the top brand display area at the 2018 EICMA Two-wheeled Car Show in Milan, Italy, flanked on both sides with top brands such as Ducati, Harley, and BMW.
  In the rigorously competitive leading brand's area, professionals set stern demand for every technical indicator. Yadea launched the new G5 lithium-driven intelligent vehicle model, equipped with independently developed high-performing broadband power motor GTR3.0, with a maximum power of 1500W, a torque of 130N·m, possessing a waterproof grade of IP57. The brand new FOC vector controller has an energy efficiency conversion capacity reaching up to 96%.
  Consumers do not understand the professional and technical indicators, but it is enough for them to know that Yadea's high-end models adopt the same Panasonic power core used at Tesla. The 8 kg battery pack can provide power for a maximum journey of 120 km. Behind this is a big amount of efforts by Yadea.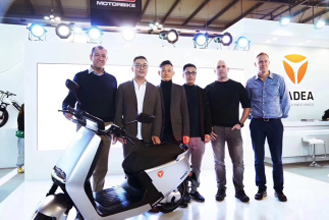 Photo: Yadea attending the 2018 EICMA Two-wheeled Car Show in Milan, Italy
  Just as we all know, the best thing about a BMW sedan is its driving experience, accuracy, enjoyment, and comfort, but nobody knows how BMW has achieved them.
  Likewise, as we know that Yadea is now the first brand for China's electric vehicles, but we don't know how much effort manufacturers and third-party management consulting institutions have made behind this.
  The bloody price war for breakthrough
  In 2014, an intense price war and fight for market share set off in China's electric vehicle market. Several top brands are caught in the all-losing tit-for-tat attacks.
  They can become rivals definitely because they have chosen a competitive strategy they are most proficient in and most confident at. On the one hand, competitors invite popular idol stars as spokespersons, to expand publicity, build a wide range of brand influence; On the other hand, they take advantage of industry capacities, to drive down manufacturing costs for obvious pricing superiority.
  In the words of Yadea Chairman Dong Jinggui, that is, some electric motorbike brands originally were bicycles makers, while Yadea makes motorcycles, with completely different corporate philosophy and advantages. Faced with strangulation of the low cost and a price war, Yadea adheres to the principles of high-quality and high-cost, and sets higher requirements in areas like vehicle speed, shock absorption, braking, performance, and electrical components control. Eventually, it has become the most stressful one in the price war. So, Yadea's passivity is inevitable.
  In 2015, Yadea joined hands with KMIND, a professional strategic consulting firm from Shanghai which they hired at a high price, to conduct research and exploration, in the hope of finding a correct path for Yadea.
  The way competitors play, of course, is in line with the market logic. At that time, China's electric vehicle market was crowded with more than 1000 manufacturers then, with mixed brands and poor quality. The use of large-scale capacity and low price competition for rapid completion of the first-step market purification complies with the classic business competition logic.
  But KMIND's client is Yadea, not a competitor. KMIND must work with Yadea to find a way to surpass its competitors. After professional research and thinking, KMIND believes that in the context of the era of consumer upgrading, consumers tend to have a higher demand for products. Yadea's electric vehicles have better quality, possessing the ground for higher-end products; Giving up the middle and low end of the market and leaving them to competitors, Yadea must stay on the professional and high-quality routes. Metaphorically, Yadea is the BMW among electric motor cars, taking advantage of the profits of the high-end consumer market for electric motorbikes.
  The strategy KMIND prescribes for Yadea, should also be combined with market demand, and based on the accurate judgment of consumer psychology.
  "'Demand' seems to be a concept that everyone understands, but here hides a code that can decide the fate of business competition." Yao Rongjun, CEO of KMIND, stressed that "many Chinese entrepreneurs understand that 'demand' is often just the 'explicit demand' of customers." Although the dominant demand market has a certain capacity, in it, there is a large number of enterprises squeezed in a one-dimensional space so the intensity of the competition is conceivable. As information asymmetry has been greatly eliminated, products, services are highly convergent, a price war has become the only 'weapon.' But this kind of zero-sum-game competition that kills 1000 enemies with an 800 self-loss, is detrimental to the whole industry and misleading to the consumer at the same time. The consumer seems to have bought the cheap product but at the cost of the low quality." In his view, the ability to gain insight into the hidden needs of customers and correctly interpret them can often to a large extent determine the survival of the enterprise and even the development of the entire industry."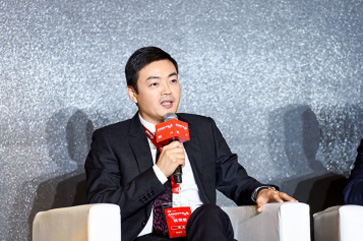 Photo: Yao Rongjun, CEO of KMIND
  In the course of market research, KMIND has found that many consumers in their hearts have a desire to "have an electric motorbike that feels better and more dignified than their neighbors'", and that is the inner voice of many consumers who buy branded electric motorbikes. After comparing the cost, quality and characteristics of brands in almost every market, and on the basis of the fact that Yadea has solid product quality foundation, having started as a motorcycle maker, KMIND suggested that Yadea take the initiative to jump out of the price war, to increase the quality distance with others and differences in pricing ladder, truly creating experiences of "higher-ended" value recognized by customers.
  Making the most professional and highest quality products is, of course, the first step in brand upgrading. At the suggestion of KMIND, Yadea put the quality level of electric motorbike accessories upward close to that of motorcycles. For example, Yadea Z3, uses the Panasonic powered lithium battery, professional GTR2 substitute motor, big 220mm disc brake system, as well as front and rear hydraulic shock absorbers. Even its body paint adopts professional motorcycle grade paints mixed through German BASF color management technology.
  It is obvious that KMIND has helped Yadea break away from the predicament in which it previously got entangled with its rivals on the low-end ground, redefined the electric vehicle product standards and quality threshold. When Yadea's "higher-end electric motorbike" went public, consumer demand was ignited ---it could cost 6,000 or 7,000 to buy a mobile phone, why not spend 7,000 or 8,000 on a higher-end electric motorbike?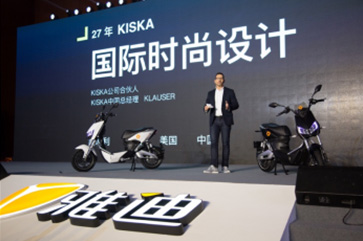 Photo: Yadea Z3s Intelligent Electric Vehicle Global Launch Site
  Scaling the height of the brand
  After enhancing product quality, KMIND obtained two messages of confidence about potential customers that prove the high-end status of Yadea from its business operations and brand awareness: exporting to the 66 countries including the United States and Germany, and leading the industry for 10 consecutive years in its sales of high-end products. And on this basis, KMIND assisted Yadea to establish a whole set of operating component system, comprehensively constructing its own professional brand image, which covers all areas of "high-end design, high-end technology, high-end quality, high-end services, and global exportation."
  For its sales system, KMIND assisted Yadea to invest a great amount of human and material resources for a comprehensive upgrade. It is the first in the industry to introduce five-star service standards for improvement of consumer service experience. In the course of marketing, it has abandoned the three old activities of "price reduction, purchase gifts, and purchase exchange," and introduced brand promotion activities like model display, urban flash, students riding, and test riding experience.
  For the product, KMIND advised that Yadea decides on the strategic trade-offs, by abandoning tricycle and special vehicle business and focusing on two-wheeled electric vehicles, on the research and development, promotion, sales of high-end two-wheeled electric vehicles, and even on only one category in the promotion.
  In terms of promotion, Yadea has hired famous stars like Lee Minho and Hu Ge as brand image ambassadors, who give a perfect representation of Yadea's new brand image. Through appropriate sequencing within the superior program resources of CCTV and Hunan Satellite TV, high-frequency advertising exposure, the promotional effect gets strengthened, shaping a high-end awareness about Yadea's electric vehicle, and seizing the commanding heights of customer recognition.
  With the help of KMIND, Yadea's "higher-end" route turned successful. In 2015 when there was a sales downturn across the industry, Yadea achieved a 20% increase against the trend, becoming the industry's exceptional performer, outshining its rivals in overall areas of the amount of sales, sales revenues, and profits, ascending to the top of the electric vehicle industry. By 2017, its annual sales exceeded 4 million units, an increase of 22.3% year-on-year, firmly retaining its first place in the industry. In the first half of 2018, Yadea's sales and sales revenue increased by more than 40% year-on-year, with a certain 5 million units of sales in store for the whole year.
  Within just three years, by breaking out from a bloody price war, Yadea achieved an amazing counter-offensive through the "use of high-end to become top of the industry。
  Excavation of hidden demand
  Looking back, KMIND's efforts to assist Yadea with a competition strategy of high-end brands, can be described as a narrow escape. At that time, China's electric vehicle market can be described as full of difficulties. Product homogenization was serious, and the growth of the industry entered a period of an abyss, with low price competition constantly staged, corporate profits rapidly declining, and the industry quickly losing its talents. But in the view of KMIND, the low-end competition mode represented by color TV price war ten years ago has become obsolete. The nascent market is bound to belong to competition through high quality and high brand reputation. The development of the industry is inseparable from reasonable profits. Unprofitable industries have a precarious future and are unable to maintain sustainable development.
  It is precise because of the encounter with KMIND that Yadea won this commercial war. With a slight lapse of mind, it may have led to failure. "To tell the truth, the competitive strategy has really saved our enterprise. We finally found the direction, found the feeling. KMIND recommended a brand strategy for Yadea, constructed a series of strategic components, and provided us with tactical guidance for resolute implementation of strategic positioning. The effect is immediate," said Chairman Dong.
  At present, "the main contradiction of the Chinese society is the contradiction between people's growing needs for a better life and the uneven and insufficient development," stressed Yao Rongjun. In this increasingly competitive environment, for enterprises to grasp the key to success, is, in fact, to dig deep into the inherent hidden needs of consumers, to take the lead in turning them into the dominant value of consumer cognition, and then enable them to be implemented through the operation of the system. Thus, we can win the continued patronage of customers, build the brand's sustainable competitiveness, and attract the attention of the capital market, ultimately producing huge economic and social benefits. For Chinese enterprises, the hidden demand contains a huge strategic opportunity.
  In fact, with the help of KMIND's competitive strategy, within just 3 years, more than 10 enterprises have achieved growth, including 9 industry leaders like Yadea, Feihe, and Bosideng. On December 19, under the guidance of the China Enterprise Federation, the Enterprise Management magazine and KMIND Consulting jointly hosted the China Enterprise Competitiveness Forum on the "2018 Chinese Strategy for Business Competition", at which KMIND released its outstanding performances in "assisting 9 industry leaders to achieve growth in 3 years." The growth mysteries of 9 industry leaders of Feihe Dairy, Bosideng, Yadea Holdings, Indel Car Refrigerators, Kouweiwang Group, Ajisen Ramen, Focus Media, Bestore, and Emei Alpine Zhuyeqing Tea, were uncovered in the wake of the holding of the forum.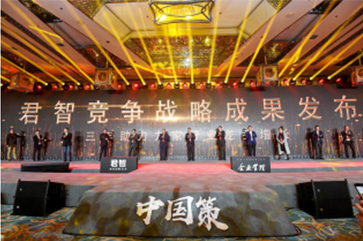 Photo: KMIND released its outstanding performances in "assisting 9 industry leaders to achieve growth in 3 years."
  Nowadays, Yadea still adheres to the pursuit of quality as a result of a successful transformation. Just as Dong put it in a speech, "the enterprise will be risk-free as long as it has consumers at its heart and builds products for its consumers." And KMIND is also assisting Yadea to conceive strategic plans for future expansion into the new-energy-driven electric energy locomotives. After all, BMW is not made in a day, but through a century of consolidation. And while traveling along the same path, KMIND and Yadea will always strive for achievement of excellence through their equally painstaking efforts.