Though there are no one-size-fits-all solutions for enterprises to succeed in the marketplace, the challenges and successes involved in transformation and upgrading often offer valuable insights for companies, experts said during the 2018 China's Strategy in Business Competition forum in Shanghai on Wednesday.
In the past 40 years since China embarked on reform and opening-up, there have been several unique methodologies and experiences that have inspired other Chinese enterprises to follow and succeed, especially when transformation and upgraded consumption has become imperative, said Su Jingqin, a professor of MBA education and management case studies from Dalian University of Technology.
Huang Haisong, standing vice-chairman of China Enterprise Confederation and China Enterprise Directors Association, said: "Industrial restructuring is often accompanied by the elimination of less competitive companies. In order to survive, Chinese enterprises must find their own tactics, adapt to competition from within and solve their own problems."
Baby formula supplier Feihe has been one of the standout success stories of the reform and opening-up period, said experts.
Leng Youbin, chairman of Feihe Dairy, attributes the company's success to strategic vision and product differentiation capabilities.
Though Feihe was in the dairy industry for five decades, the company suffered a setback in 2008 in the aftermath of the melamine scandal. The incident, Leng recalls, led to a severe trust deficit in Chinese dairy brands and their combined market share fell to just 39 percent by 2015.
"Our efforts after the scandal was largely centered on rebuilding consumer confidence in Chinese brands," said Leng.
"To succeed, we knew that we had to be different from our foreign counterparts. So we chose to market our products with 'Feihe has a more suitable formula for Chinese babies' motto."
In three years, Feihe rose from the seventh position to be the top domestic baby formula brand in 2017, with revenue of more than 10 billion yuan ($1.45 billion) as of November this year.
"We were helped in our transformation by strategic consulting firm Kmind Consulting, which saw us focus on high-end products," said Leng.
Xu Lianzheng, president of Kmind Consulting, said that customers will recognize a brand only if it has some unique standards and unique value. "This is not easy, but it is key for the development of Chinese brands," he said.
Chinese downcoat maker Bosideng International Holdings Ltd is another example of China's reform and opening-up success. The company netted sales of over 740 million yuan during the Nov 11 Singles Day shopping festival, up 73.2 percent on an annual basis. Since November, it has seen a 41.6 percent growth in revenue in 42 days.
Gao Dekang, founder and chairman of Bosideng, attributed the success to its upgrading strategy.
Founded in 1976, Bosideng reached a bottleneck in branding in 2014, due to intense global competition, according to Gao.
"After solid market research and analysis by Kmind Consulting, the company repositioned itself as a global expert in downcoats, and built an effective plan for branding, sales, production, and supply chain," said Gao.
The company saw its revenue increase 16.4 percent to 3.44 billion yuan in the first six months of this year, with revenue from its branded down apparel business segment surging by 19.5 percent to 1.77 billion yuan year-on-year.
Yao Rongjun, CEO of Kmind Consulting, said he is positive of the competition from its peers, because that can also lead to progress of the whole industry.
Like many other Chinese companies, after achieving its industry leading position in 2015, snack company Liangpinpuzi was struggling with razor-thin profit, lack of innovation, and inefficient management, said Yang Hongchun, chairman of Liangpinpuzi.
"We decided high quality is our strategy, especially as our consumers are pursuing high quality products and experience. High-end is what we will stick to for the 2019 Chinese New Year sales peak," said Yang.
"Made-in-China products are in the process of turning into Chinese brands, and during this process, we need to make a breakthrough from price-war, low-end value chain, and help Chinese companies integrate with the global market with competitiveness and branding," said Xie Weishan, chairman of Kmind Consulting.
Product differentiation holds key for success of Chinese firms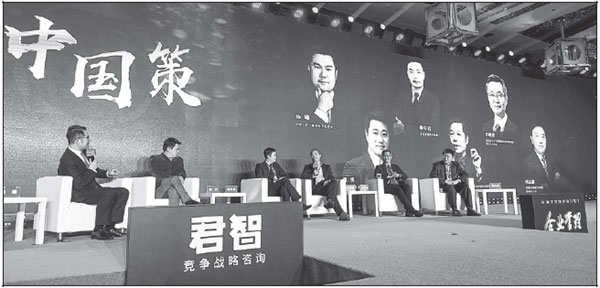 Experts from various industries hold a discussion during the 2018 China's Strategy in Business Competition forum held by Chinese think tank Kmind Consulting in Shanghai. Provided to China Daily