The Chinese Enterprise Competitiveness Forum on the "2018 China's Strategies for Business Competition," was held in Shanghai on the 19th, and more than 400 guests from political, academic and business circles shared their opinions on the development path of Chinese enterprises. Issues like how to promote "the integration of production, and study and research between universities and enterprises" were fully explored. The Forum was jointly sponsored by the China Enterprise Federation, the Enterprise Management magazine and KMIND Consulting.
  Through a variety of forms of communication and exploration, like round-table forums and keynote speeches, the participants reached consensus on a new model that integrates theory and practice, called "production, study and research integration." At the forum, the competition strategy teaching and research workshop which was jointly set up by the China Management Case Sharing Center and KMIND Consulting, a model Chinese consulting company, was officially launched, with the aim to promote Chinese management teaching to take a new step forward towards "integration of production, study and research."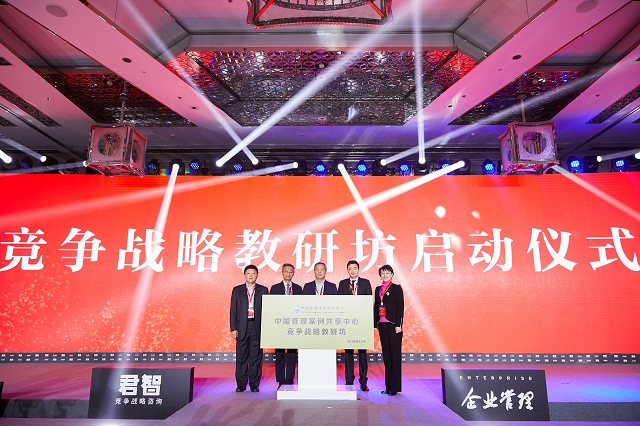 Jointly exploring a new way of thinking about the integration of production, study and research
 In the 20s of last century, Harvard Business School took the lead in advocating case teaching methods, cultivating students ' decision-making and problem-solving abilities with real business scenarios, and becoming an important way to train management talents in the past hundred years. Although the case teaching method also plays an important role in cultivating high-quality management talents in China, controversies such as whether Chinese management talent education can completely copy the Western model and whether international enterprise cases are suitable for Chinese enterprises has accompanied the process of the development of management education in China.
   Professor Su Jingqin, a member of the National MBA Education Steering Committee and director of the China Management Case Sharing Center, delivered a speech on "Innovation Path for Chinese Enterprises in the New Era" and said the following at the Roundtable Forum on "the 2018 National Strategies for Business Competition." China has made great achievements in economic development over the past 40 years of reform and opening up. Chinese enterprises have also produced a lot of unique, different-from-the-West experiences and methods through their development practices. A number of outstanding Chinese enterprise practice samples are needed to drive the development of Chinese enterprises and to boost the confidence of Chinese entrepreneurs, especially against todays changeable economic and trade environment. In addition, new economic brands at home and abroad feature horizontal diversified development and vertical deep-plowing development, which are superficially different, but actually substantially different in terms of quality of brand development. In terms of case teaching, the current management theories of domestic business schools mainly come from the West, which needs independent research and development of management theories suitable for China's national conditions to train management personnel, improve management level and solve China's problems. However, in order to excavate and summarize the cases and experiences of these large and medium-sized local enterprises, it is not enough to rely solely on the power of business schools. A co-promotion of production, study, and research is required for joint completion of these tasks.
  Liu Zhiying, a professor at the University of Science and Technology of China and director of the Case Center, said that the relationship between production, study, and research is summed up as follows: the academic community transforming management ideas into strategic theories that have guiding value suitable for Chinese genes; consulting firms transform theories into management rules that entrepreneurs can operate by directly, and entrepreneurs implement them in their practical operations. The competition strategy teaching and research workshop as a co-creative platform for production, study, and research, can promote the business community to have theoretical guidance and practical tools. It can also drive the development of the consulting company from the past "hit-and-run" model to a service model through multiple collaboration among universities, consulting companies, and enterprises.
  Wu Xiaobo, a professor at Zhejiang University, said a highly developed economy not only has high-quality businesses, but also high-level business schools and consulting firms, which have been confirmed in countries such as the United States and Japan. Now that global competition is entering an era of high-quality competition, the power of knowledge is even more important, and more high-quality consulting firms are urgently needed. Wu Xiaobo also put forward three suggestions to modern enterprises-to maintain learning and innovate in the course of learning, keep a constant eye on changes in the competition situation, and use the iron triangle of "enterprise + university + consulting company" to establish a new ecological development system to support its own growth.
  Tang Xia, chairman of CredEx Fintech, said that the current business environment hasn't occurred in the West. Chinese enterprises can draw on the experience of the west in areas like management and operation but cannot copy them. Chinese enterprises need methodology specific for Chinese enterprises. Having made a lot of attempts in the fields of production, study, and research, CredEx Fintech is both a practitioner and beneficiary of them, willing to actively continue to provide a practicing platform for colleges and universities in the future. This year, CredEx Fintech was awarded the highest platinum award, the "global financial award for micro-sized enterprises" by the World Bank and G20, as the world's first financial technology company to receive the award. Previously, for the two consecutive years of 2016 and 2017, CredEx Fintech was listed among the "Nation's 100 Excellent Management Cases" jointly selected by the Academic Degree Committee of the State Council and the Ministry of Education. It is also the only financial science and technology case in China selected by the Wharton Business School in the U.S.
 Yao Rongjun, CEO of KMIND Consulting, said that in the process of transformation and upgrading, Chinese enterprises need to have the mode for development and Chinese methods that suit their own needs, which means that "each place nurtures its own talents." The competitiveness among enterprises depends more and more on whether there are a large number of high-quality and high-level talents, especially management talents. The future economic development depends on the knowledge that must be tested in the real world. He indicates that consulting enterprises will play a huge role in the construction of the platform for "integration of production, study, and research." KMIND Consulting has established a set of competitive strategy systems in practice and accumulated a lot of practical experience and success examples. In the process of combining production, study, and research, it hopes to assist business schools in their case development "to go closer, digs deeper, and write more thoroughly." By helping Chinese companies with their cultivation of management talents, they can help more Chinese companies to cope with more intense global competition.
  Competition Strategy Teaching and Research Workshop officially launched
  The Competition Strategy Teaching and Research Workshop is jointly funded by the China Management Case Sharing Center in collaboration with a number of well-known university experts and professors, and KMIND Consulting, as well as the enterprises served by KMIND, under the auspices of the National MBA Education Steering Committee. The objective is to build a co-creative platform for production, study, and research aimed at excavating excellent business practice cases of Chinese enterprises.
  Wang Ping, director of the National MBA Education Steering Committee, said that the Competition Strategy Teaching and Research Workshop should take root in local Chinese enterprises, focus on excavating and summing up the best practice cases of Chinese enterprises, give full play to the advantages of integrated production, study and research, provide support for the sustained and high-quality development of Chinese enterprises, and help the internalization development of Chinese management education. At the same time, she also hopes that the entrepreneurs and academic experts present will continue to pay attention to and support the Competition Strategy Teaching and Research Workshop.
  As a co-creative platform for production, study, and research, the Competition Strategy Teaching and Research Workshop provides a practice base for schools, sends to them live cases, promotes teaching improvement and the formation of Chinese management theory, and lays a foundation for high-quality enterprise management talent training. At the same time, enterprises can rely on the school's strong human resources, and constantly optimize management methods, detect and solve business problems in a timely manner, which will greatly promote the rapid and healthy development of enterprises. In the future, the Competition Strategy Teaching and Research Workshop will establish its foothold in the practical frontier, excavating and creating excellent strategic cases, to speed up the formation of China's management theory, and to contribute to the global business management with "China program".
  The head of the KMIND Consulting said that by knocking down the "wall" lying between the classical theoretical schools of China and the West, based on decade-long consulting practices for over a hundred enterprises, KMIND combines the oriental wisdoms like Confucianism, and the overall perspective and systematic view of the " Military Science of Sun Zi" with the classic western theories like Michael Porter's competition strategy theory, Peter Drucker's management theory, Trautt and Reese's positioning theory, Taylor's scientific management principles, creating a set of the KMIND's competitive strategy systems, which try to promote the development and perfection of the local strategic theory through its own practice. KMIND released its practical achievements in "helping 9 industry leaders grow in 3 years" at the forum.
 Gao Dekang, chairman of Board and CEO of Bosideng indicated that the great change Bosideng experienced in 2018 has won unanimous acclaim from the market. He said that "with the overall development of the garment industry in the doldrums, KMIND has helped the company to rise against the trend and enter into a new era of development." Yang Hongchun, the founder of Bestore, said that with the help of KMIND's competitive strategy, the company broke down departmental barriers, efficiently deployed resources through concentrating them on key corporate areas. In 2018, Bestore redefined its high-end snacks to lead the development of the industry. Since July, it has begun to reduce promotion through discounts. This year, the total sales from all of its channels during the Double 11 Festival exceeded 400 million, or an 82% growth year-on-year, with profit indicators turning bullish comprehensively.
  (Economic Daily Reporter: Li Zhiguo Editor-in-charge: Xu Xiaoyan)